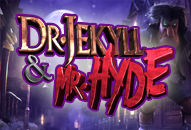 Dr. Jekyll & Mr. Hyde
Betsoft
Video Slots
0
Intro to Dr. Jekyll and Mr. Hyde Betsoft

Betsoft is relentless about churning out top-notch casino slots and this game tows that path too. This game is a 5-reel slot that is inspired by a novel written by Robert Louis Stevenson. This delightful slot comes in a catchy design and presents you with a thrilling turn of events that makes the game captivating. This game comes with different bonus options and free spins feature that gives you a better chance at winning while playing. Play live Casino is known for always having the best stash of online slots, which explains why this slot makes it to the selection. Knowing how particular casino lovers in South Africa are about quality, it is understandable that they would take an interest in playing at Playlive Casino.


How to Play Dr. Jekyll and Mr. Hyde Betsoft

One thing you have to commend this game about is the graphics and how realistic it is. The first action to take as you open this game is to set your stake. To set your stake, simply click on the menu icon by the top left of the screen. Once you click that icon, you will be shown a drop-down list, select "change bet" and you will be redirected to a different screen where you can adjust your stake. On that screen, you can set your stake to your preferred amount by swiping up or down. The minimum stake allowed in the game is 0.01 and the maximum stake is 1. Once your stake has been set, click on the spin icon by the right of the screen to activate the reels. In an event where you are considering running a chain of spins on autopilot, then you have to activate the autoplay icon. To activate autoplay, click on the change bet tab on the list and click on the autoplay tab at the top of the screen. With the autoplay, you can run as many as 100 spins on autopilot.


Slot Features of Dr. Jekyll and Mr. Hyde Betsoft

One exciting thing about this slot is the range of special features that it comes fully equipped with. In this slot, you will enjoy two main features: the bonus game and free spins. The free spins feature is activated when the potion meter is filled. The game also comes correct with two major bonuses which are the frenzy bonus and potion bonus. Each of the bonuses is activated differently and have their respective benefits. There are eight main symbols featured in this slot. Each of them has its respective payout values. To get more information about the payout values of each symbol, check the paytable.


Summary

This exciting 5-reel game promises you a fulfilling casino gaming experience and an impressive payout potential.